Dec. 30, 2010: Madison NORML Examiner looks back at the Wisconsin year in cannabis 2010
Twin anniversaries point to difficult life for Wisconsin MMJ advocate
Video: Jacki gets Legal in Oregon!
Friday Oct. 1 - Recap - 8th Annual IMMLY Benefit Oct 1, 2010
Nov. 30, 2010: Wisconsin's Legislative Reference Bureau issues report on Medical Cannabis
28 Nov 2010: Illinois House scheduled to vote on medical cannabis bill Tuesday
Nov. 4, 2010: RELEASE: Medical Marijuana Advisory Referendum Campaign Committee: County Landslide for MMJ Referendum a mandate for change
Nov. 3, 2010: Channel 3000: Dane County Voters Show Support For Medical Marijuana
Nov. 2, 2010: Medical Marijuana Referendum landslide in Dane County and River Falls
02 Sept 2010: Medical Marijuana referendum question on November 2
02 Sept 2010: Pierce County Herald: Petition calls for marijuna question on fall ballot
20 Jul 2010: Wisconsin State Journal: Medical marijuana issue to county voters
15 Jul 2010: Dane County Board votes unanimously to put MMJ Advisory Referendum on Nov. 2 General Election Ballot
09 Jul 2010: Dane County Board to vote July 15 on medical cannabis advisory referendum for fall ballot
24 Jun 2010: Isthmus: OPED: Gary Storck: Lawmakers to sick people: We don't care - Rejection of Wisconsin medical marijuana bill was a profile in cowardice
20 Jun 2010: Wisconsin State Journal: June 20: Should Dane County hold an advisory referendum on legalizing medical marijuana?
19 Jun 2010: Madison NORML Examiner: Thirteen Cosponsors for Dane County MMJ Advisory Referendum Resolution
18 Jun 2010: Madison NORML Examiner: Medical Marijuana Supporters at Leah Vukmir campaign event outnumber Vukmir fans
June 15, 2010: Dane County Board to look at Medical Marijuana Advisory Referendum for November Ballot
Jacki Rickert urges Wisconsin medical marijuana supporters to not give up at Capitol vigil
June 7, 2010: Second Annual Vigil for Victims of Medical Marijuana Prohibition
18 Feb 2010: Exponent (UW-Platteville): Column: Medical marijuana offers relief
Madison NORML Examiner: The name behind Wisconsin's Medical Marijuana Legislation: Who is Jacki Rickert? Part One:
Jacki and Gary Live on WORT w/FRP Sat. 1/23/10 (Mp3)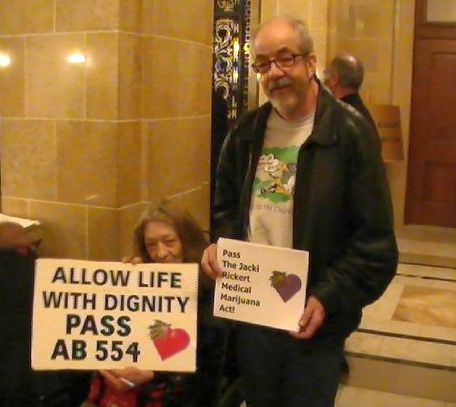 Video of Mary Powers Memorial/Lobby Day events
The Capital Videos: The Webcast
Shorter Version
Read article with photos and video links about the January 20, 2010 Wisconsin State Capitol Medical Marijuana Lobby Day & Memorial for Patients
IMMLY Statement on Passage of New Jersey Medical Marijuana Law
11 Mar 2010: Gary Storck: Wisconsin State Journal: Push for medical marijuana act now
Statewide Day of Prayer for Compassion and the passage of the Jacki Rickert MMJ Act on March 23!
12 Feb 2010: Capital Times: Gary Storck: Tell legislators to pass medical marijuana act
Feb 24: Second Medical Marijuana Lobby Day
Feb 22: IMMLY at UW-Waukesha: "A Grassroots Evening"
January 20, 2010 Wisconsin State Capitol Medical Marijuana Lobby Day & Memorial for Patients
January 20, 2010: Video of Mary Powers Memorial/Lobby Day events/The Capital Videos: The Webcast
Shorter Version