Video of WI State Senate Committee MMJ Hearing, Dr. Bearman UW Med School presentation, now online
Video records of two of three of the medical cannabis events in Madison from Nov. 12-14 are now available online in video and audio.

Dr. Bearmanís University of Wisconsin Medical School presentation can be found here.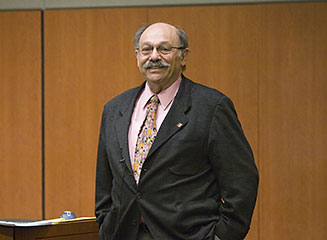 David Bearman, MD, a Santa Barbara, California physician and surgeon with Wisconsin roots, speaks on "Cannabis and Cannabinoids in 21st Century Medicine: Medical Marijuana in the Clinic".

Bearman is one of the leading physicians in the U.S. in the field of medical marijuana. He has spent 40 years working in substance and drug abuse treatment and prevention programs. Bearman was a pioneer in the free and community clinic movement.
Wednesday's State Senate Committee hearing is also now archived at Wisconsin Eye. This link will open the video for immediate viewing.
11.14.07 | Senate Committee on Health, Human Services, Insurance, and Job Creation

The Committee heard testimony on the use of medical marijuana. The following individuals were invited to speak: George McMahon, Since 1990, Mr. McMahon has received a monthly prescription for medical marijuana from the federal government for the treatment of a rare, painful medical condition called Nail-Patella Syndrome. Dr. Christopher G. Fichtner, Associate Professor of Clinical Psychiatry-University of Chicago, President of WellMindHealth, former Director of Mental health for the Illinois Department of Human Services. Dr. David Bearman, California physician who operates a medical practice specific to medical marijuana patients. Public testimony will be allowed following the three invited speakers.
Updated Saturday, November 17, 2007
THIS PAGE HAS BEEN ACCESSED 4106 TIMES
---