Journey For Justice
In September 1997, Jacki led a number of patients, care providers and supporters on the Wisconsin Journey For Justice, a 210-mile wheelchair journey from Mondovi to Madison to kick off the introduction of medicinal marijuana legislation.

The Journey began at the grave of Dr. William Wright, a courageous physician who treated Jacki for many years. Dr. Wright's heroic efforts to enroll Jacki in the Compassionate IND program resulted in her being approved for a federal prescription for therapeutic cannabis, but the government cruelly reneged on their contract and never delivered her medicine.

Some links to articles about the Journey and photographs can be found below.
Painful journey
9 August 1997
LeaderTelegram, Eau Claire, WI
http://www.mapinc.org/drugnews/v97/n318/a03.html
Woman seeking to use marijuana gets support for Madison trip
11 September 1997
LeaderTelegram, Eau Claire, WI
http://www.mapinc.org/drugnews/v97/n400/a06.html
Journey for Justice II Wisconsin
Selma to Montgomery - Mondovi to Madison
http://www.gnv.fdt.net/~jrdawson/justice2.htm
Editorial: Let's separate health, politics
17 September 1997
The Capital Times, Madison, Wisconsin
http://www.mapinc.org/drugnews/v97/n419/a03.html
PUB LTE: Legalization Of Medical Pot Overdue
30 September 1997
The Capital Times
http://www.mapinc.org/letters/1997/09/lte25.html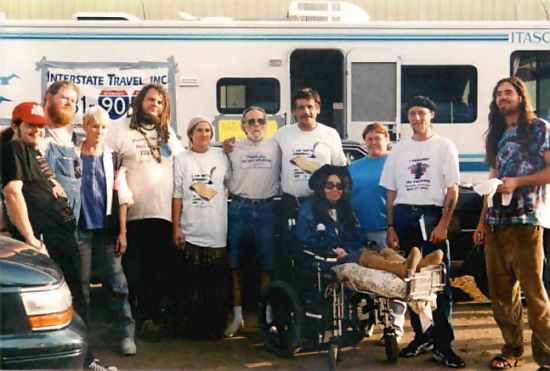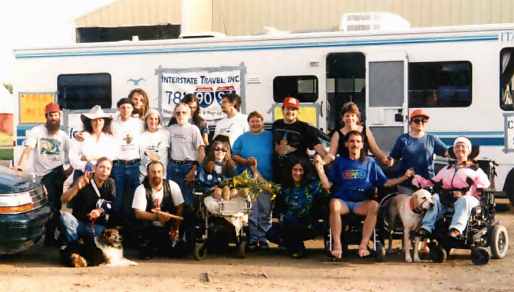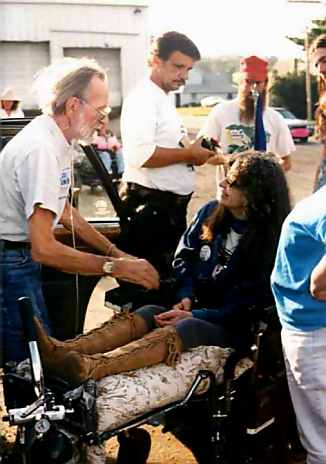 CLICK PHOTOS FOR LARGER IMAGE
The late "Pres Bob" Kundert of the American Cannabis Society greets Jacki at a stop along the Journey route as the late Joe Hart, who traveled from Florida to join the trek looks on. Along with Marv Simonis, three Journey patient/participants have passed on since the September 1997 event. As the toll mounts, the government keeps telling patients to wait for research that never comes. How many more people are going to die before our medicine is legal?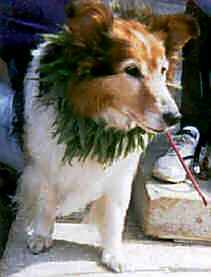 CLICK FOR LARGER IMAGE
Jacki's faithful cannabis canine companion, Bones, outside the Capitol in Madison at the conclusion of the Journey. Sadly, Bones passed to doggie heaven on March 9, 2001, after a 17-year run..
THIS PAGE HAS BEEN ACCESSED 5067 TIMES
---